Our Academic Board
The Academic Board has four members currently.
Goals
The Board has three purposes:
to set the strategic direction for the school;
to ensure financial, legal and ethical probity; and
when necessary to appoint and provide guidance to the School Principal and oversee his/her performance
The leadership and management of the school is the responsibility of The School Principal, as is all staffing matters including hiring and dismissals. The Principal reports to the Board but is given delegated authority by the Board for all managerial matters.
BOARD MEMBERS PROFILE
Dr. Christopher Abraham Ph.D., FCIM

Dr. Christopher Abraham has three Post Graduate qualifications in HRM, Business Administration (Marketing), Labor & Administrative Law and is a PhD in Business Administration (Design Thinking & Innovation). He is a Certified Design Thinker from IDEO/Stanford and is a Fellow of the Chartered Institute of Marketing (FCIM), UK. He has thirty-four years' experience in management consulting, marketing, and management education in India, Singapore and the UAE.
Currently he is the CEO & Head - Dubai campus and Sr. Vice President (Institutional Development) at the S P Jain School of Global Management, a Forbes Top 10, Economist & FT Top 100 ranked Business School, with campuses in Dubai, Singapore, Mumbai and Sydney
Dr. Abraham has been a visiting Professor at many leading universities in Australia, USA, Canada, Singapore and UK. Earlier in Dubai, he headed the Executive MBA Program of XLRI, Jamshedpur, one of Asia's top business schools.
His areas of competence are Innovation, Design Thinking, Behavioural Design, Strategy, Neuroscience of Decision Making, Future of Education, Science of Happiness, Leadership, Human Potential, Entrepreneurship, Marketing & Strategy.
A much sought after 3 x TEDx and international keynote speaker, he has successfully presented in numerous global forums and has also conducted many consulting and executive development assignments for global organizations, including The World Bank, The Executive Council (Govt. of Dubai), Emirates Airlines, SEWA (Government of Sharjah), Aramex, DHL, P & G, LG, Reckitt & Benkiser, AW Rostamani (Nissan Auto) etc...
Awards & Recognitions
Twice Awarded "Best CEO in the World" in 2018 & 2019, by Indo – UAE Business & Social Forum
Twice winner of the Education Leadership Award – World Leadership Congress 2015 & 2017. 
Regularly Interviewed in leading TV & Media Channels like CNBC, Dubai Eye, Dubai TV etc.
Regular News Columns and quotes in leading newspapers like Gulf News, Khaleej Times, The National, Times of India, Mumbai Mirror etc.
Twice awarded "Outstanding Professional of the Year "by Junior Chamber Intl.
Positions & Memberships
Honorary Fellow – Leaders Excellence at Harvard Square
Advisor – RTA Innovation Lab, Government of Dubai
Global Advisory Board Member - World CMO Council (Council of Chief Marketing Officers)
Member of the Board – The Abrahamic Business Circle
Advisory Board Member – CEO Clubs Worldwide
Senior Advisory Board Member –WASME World Association of SMEs (An UNESCO Initiative)
Senior Advisory Board Member – World Sustainable Business Forum
Director – S P Jain Centre of Excellence for the Science of Happiness
Member of the Governing Board – Gulf Marketing Association
Executive Board Member – CIVITAS DEI Institute of History and Archaeology of Jerusalem
Member of the Board of Directors – Talents of Endearment
Member of the Board – Joblio – An AI enabled ethical recruitment solutions company
Member of the Academic Board – World Masters Academy
RANJITH J DEVADOSS

Founder & Managing Director at Victacruz Entreventures Pvt. Ltd.
Head - Business Excellence at Caterpillar Inc.- Asia Pacific (Dejit's)
6 Sigma & Lean Deployment Champion cum Master Black Belt at Caterpillar Inc. - Asia Pacific
Category Sourcing Manager / 6 Sigma Black Belt at Caterpillar Inc. - India
Commodity Team Lead / Team Member - Supplier Development at Hindustan Motors - Earthmoving Equipment Division
Education
BE (Mech Engg), MS (Opns Mgmt), MBB (6 Sigma & Lean Mfg)
NIT, Trichy and BITS, Pilani
1991 – 1995
Certified MBB from Caterpillar University, USA
Ranjith has 13 years of core experience in developing and executing Company-wide Business Transformation roadmaps through the deployment of 6 Sigma, Lean Manufacturing and Strategic Sourcing initiatives both within Caterpillar Asia and to 30+ mid market and large-strategic Supply Chain partners across South Asia. He has also trained and coached a 300+ mix of Deployment Champions, Black Belts, Sourcing Professionals and Executive Leaders in the process of doing so.
Certifications:
- Certified 6 Sigma Champion and Master Black Belt (Caterpillar Inc.)
- Qualified Lean Champion and Black Belt (Caterpillar Inc.)
- Certified 6 Sigma Black Belt - DMAIC and DMEDI
- Strategic Sourcing Specialist

DR. DAFFINE JOSEPH

Profession

Human Resources Professional with Multinational organisations like FORD India Pvt Ltd (Visteon) and Renault Nissan Automotive India Pvt Ltd
Educational Qualification

PhD (HRM)
PGDHRM
M.A Public Administration
Social Activities:

Chief Counsellor at the Gethsemane Counselling Centre associated with JR Ministries
Achievements:

Gold medallist - Anna Adharsh (2000)
State Rank Holder- Madras University
Proficiency Award in 8 Subjects
"Leading the Way" Award at Visteon Automotive Pvt. Ltd
Certified 6 sigma Green belt champion.
Integrated Management System (ISO 9001 and 14001) Certified (2012)
Doctorate in HRM (Employee Competency Building) - Madras University

Additional:

Winner of the "Rapunzel Award"
Singer of South Chennai (Ist Runners Up)
Singer of devotional songs with 18 albums to her credit

Responsibilities:

Training Design and Development
Soft skills Trainer
Talent Management
Performance Management System
Head of Internal Communications at the
Renault Nissan Automotive India Pvt Ltd.


Dr. Daffine Joseph is a Human Resource Manager who completed her doctorate in the broader field of human resources with the Madras University researching Employee competency building in organizations. She has delivered products in training which was benchmarked in the Renault Nissan Regional Management. She heads the Internal Communications in the OEM and closely works with the corporate communications.
DR. D.P.N. PRASAD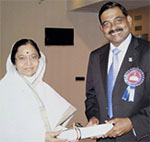 Educational Qualification

MA, Med, DML, BGL, MBA, PhD
Profession

Dr. D.P.N. Prasad is a renowned academician, educationist and a master trainer with a rich experience and expertise in the education domain. Dr. Prasad, former Principal of Bombay Scottish School, has been associated with various elite educational institutions in India. He serves on the boards of several educational institutions across the country. He is also a visiting faculty to many Management colleges. His services in the field of education have been recognized in the appropriate levels.

He received the NATIONAL AWARD for the best teachers by the govt of India from the President in the year 2009. The State Award for the best teachers by the Government of Maharashtra was awarded to him in the year 2007.
Special Executive Officer (Legal) : Govt. Of Maharashtra
Vice President : The Special Executive Magistrates' & Officers' Society
Vice Chairman / Trustee : Indian Council of Management Executives.
Education Management & Strategy Consultant : Khar Education Society Institutions
Education Management Strategy Consultant (2012-15) : Lodha World Schools, Mumbai
Principal & Hon. Secretary (1999-2009) : Bombay Scottish Schools / BSOS Trust
Country Chairman & Trustee (2000-2014) : Board of Governors - The Leprosy Mission Trust India
Lead - Schools Coordination Team : Terry Fox India Committee for Cancer Research
Former Director : Core K 12 Schools Pvt. Ltd. at CORE Education & Technologies Ltd
Executive Director : R. S. Luth Edu. Trust, Nashik (Fravashi histttutions.)
Chairman, Sr. Elder & Hon. Executive Trustee : Kirk Sessions - Scots' Kirk - Mumbai
Dean : Aditya Jyot Institute of Optometry
Life Member : Maharashtra Rifle Assn. Worli, Mumbai
Life Member : The Indo - Israel Chamber of Commerce, Mumbai
Member 2019-2021 : International Audit Committee TLM International Londor
Chairman - Property and Investment Committee : The Leprosy Mission Trust India
He received the NATIONAL AWARD for the best teachers by the govt of India from the President in the year 2009. The State Award for the best teachers by the Government of Maharashtra was awarded to him in the year 2007.
In recognition of his outstanding service to the Field of education and for human enrichment, he was awarded "The Derozio Award" by the ICSE in the year 2010.
In the year 2000 he was invited to Houston, Texas, USA to receive the "Maha- Acharya Award" instituted by The INDIAN AMERICANS.
In the year 2005 the Mahatma Gandhi Award for social justice was accorded to him by the All India Christian Council for his dedicated work with the LEPROSY MISSION for more than 25 years.
He also is the recipient of "Mother Teresa Award" for working tirelessly for the eradication of leprosy in India.
He is associated with many service organizations like Y's men International, Gandhi peace foundation and The Rotary . He is deeply involved with The Terry Fox India Committee, which strives for the noble cause of treating children affected of Cancer and Research.
His association with the pavement school for street children an outreach programme of his church is close to his heart.. His life long association with the Leprosy mission has elevated him to the post of the Chairman of The Leprosy Mission Trust India Board which runs 14 hospitals and vocational training institutes for the leprosy cured children.
Dr Prasad serves as the Vice Chairman of the Special Executive Magistrates Association of Maharashtra. He is also the Vice President of Indian Council for Management Executives.
The Government of Maharashtra has appointed him as the Special Executive Officer, which is a great honor. Dr. Prasad serves as the EXECUTIVE DIRECTOR of the Fravashi Group of Schools and colleges in Nasik, and as The Dean of The Aditya Jyot Institute Of Optometry, Mumbai.
An able administrator and a management expert, Dr Prasad serves on the board of Core K 12 Schools Pvt. Ltd. He also advises the LODHA GROUP OF SCHOOLS in Mumbai.
Awards & Achievements:
Dr. D. P. N. Prasad is a recipient of several National and International awards. To name a few:-
"Maha Acharya Award" awarded by the Indian Americans in Houston in the year 2000.
'National award' and Presidents Medal in the year 2007.
Maharashtra State Award for 'Best Teacher' in the year 2006.
Rotary International;- "For the Sake of Honor" award for Exemplary Service to Humanity in the year 2007.
"Mahatma Gandhi Awards for Social Justice" in the year 2009.
"Mother Teresa Award" for upliftment of the Leprosy affected by Harmony Foundation in the year 2009.